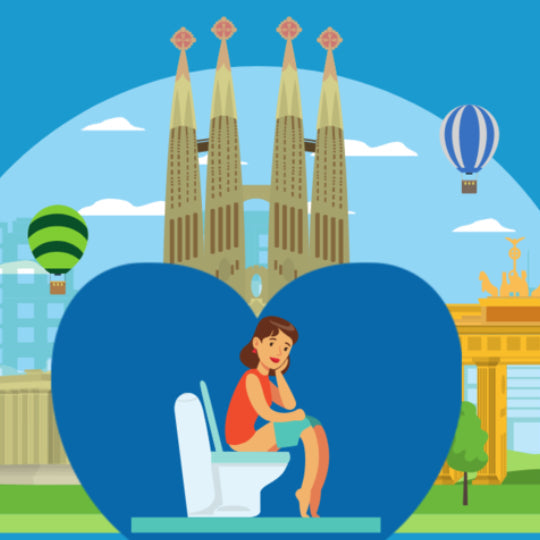 Stressed at work and need time to think or five minutes away from your partner, where do you go? Your throne. Never take those much needed minutes on the toilet for granted. But where was the most picturesque place you ever dropped the kids off, so to speak? We've gone on a hunt to find the most unusual and sensational thrones for when you just REALLY need to go.
Picturesque poos
First stop on our trip is across the pond over to Washington, USA. Set deep within the picturesque views of the Cascade Range, a major mountain range in North America, is this glorious pitstop for a sit. We don't advise taking your packed lunch up to this spot due to hygiene reasons but not a bad view for a poo. We feel that in this scenario, privacy is not of paramount importance and so you just have to squat and go about your business!
Tanning on the toilet
From magnificent mountain ranges the next logical step would be to get some Vitamin D into your life so we've jetted over to the sea. We've had no luck trying to track down where this photo is from but as the January blues kick in and the rain pours down in London, all we have to say is YES PLEASE! Sun, sea and sublime poos are all that's needed to make someone happy. We're hoping that there is a tank underneath the toilet as 5* guests wouldn't want a floater whilst snorkelling...!
Sh!t day at work
No matter what line of work you're in, the office can be a stressful place from time to time. Whether you're getting ready for a quarterly review with your boss, an interview for a promotion or simply presenting, a couple of minutes of paid leave is always a good way to prepare. With its endless views of London, this toilet on the 68th floor of The Shard has to be on the poo bucket list - even if you're scared of heights, there is no better place to shit yourself!
King of the mountain
Heading back over to the mountains of North America (do y'all have toilets like this?!) is where we come across one of the most scenic thrones of all time. Nestled in the heart of Mt. Whitney is this fantastic spot. We'd advise you to go to the toilet before commencing the intense hike but whether you want to just sit and meditate or use the bathroom, this place is just exquisite.
Al fresco throne
When going about our daily business, some prefer a little more privacy from the world and nothing ticks that box more than this cute outdoor toilet in Koh Chang, Thailand. With all that spicy Thai food, you might be sweating from more than the humid weather, and a friendly breeze can definitely provide solace through this greenery. Beware though that might not be the only thing making an entrance while you evacuate, don't get too comfortable on an al fresco throne as you may be greeted by spiders, snakes and all sorts - hopefully the smell will be enough to keep them away!
These days it seems that we're stuck in our plain old toilets but there is no harm in dreaming of somewhere better to spend some quality alone time, hopefully this has given you some inspiration! Have we missed any unusual thrones around the world or maybe you've got ones you want to share from your travels? Please either send them in to hello@getwype.com or follow us on Instagram or Facebook
#WypeUK #CleanUpDownThere #ThroneWithAView
---