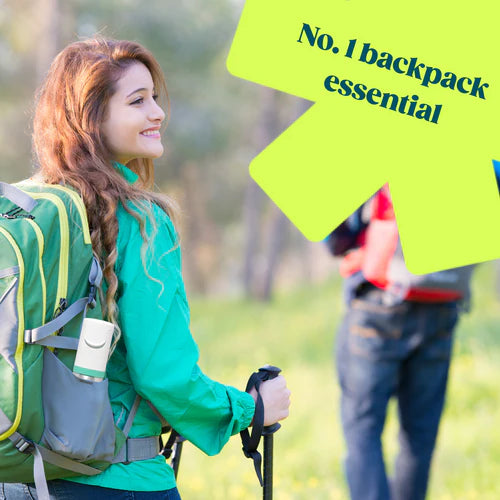 The number 1 backpack essential for travelling
As humans, we're naturally adventurous. Something about being in the wilderness just brings out the hunter/gatherer in us, which is why so many people love hiking and mountain trekking! The fresh breeze in your hair, the luscious grass under your feet, the gorgeous views you'll never forget, and the bush you'll have to take to at some point to pop a squat. 
Now, nobody's saying that doing our business in a forest or a field is ideal, but it just comes with the territory. The most important thing to note, is everyone is in the same boat when out in the wilderness, so there's nothing to be embarrassed about. 
Whether we'd rather do literally anything else than poop amongst the plants, we should always be prepared for when Mother Nature calls, so here's some tips and tricks for when you need to go on the go! 
How to poop when traveling, hiking or mountain

trekking

 
When it comes to dropping some pebbles in the fields, forests, or mountains we need to focus on getting the deed done promptly whilst also respecting our fellow travellers. So, we've come up with three Ps to help you get out with it and on with it when you're facing any tremendous trek.  
Privacy – Find somewhere secluded (maybe behind a bush), around 70 steps away from any trail, and dig a hole. Pop a squat, do your business and cover it back up with the original dirt. Doing this not only gets you far away enough to drop some pebbles in peace, but it also means you won't be doing any other hikers dirty by leaving a potty present behind.  
Position – We're in the best position to release the beast when we're in a squatting position. Ever seen a toddler running around and suddenly stop, squat, and carry on with their day like they haven't just unleased the most unearthly stench? Well, they actually have it right! When you're pooping out in the wilderness, embrace the squat and enjoy the benefits of the ultimate pooping position (tutorial here). Want to try it at home? Take a look at this foldable wooden squatting stool! 
Prepared – Make sure you're prepared to clean up after you've picked up the phone to nature's call with some toilet tissue and an eco-friendly, non-toxic toilet wipe gel. You don't know struggle until you've had to wipe away what's left behind with a leaf – or God-forbid some well disguised nettles. Always be sure you're prepared for what a diet of tin foods leaves behind when you're traveling for long periods of time by foot. 
Now, if only we knew a certain travel friendly, cleansing toilet wipe gel that would be great for when you need to go on the go... 
The number 1 travelling essential for hiking

 
Altitude sickness whilst hiking? Struggling to breathe? Don't worry, Wype's probably just taken your breath away! 
Wype keeps you conveniently clean, even when you find yourself at the peak of a mountain. Our pocket-sized, lightweight bottle of toilet paper gel will help you keep prim and proper, no matter where you are in the world! 
A natural and organic formula allows you to rest easy, knowing you aren't harming wildlife, nor the sensitive skin around your tushy when cleaning up below the waist, whilst 4000 metres above sea level. It's kinder to your skin than wet wipes, and kinder to Mother Nature too!  
To prove that Wype is the perfect pal for plodding along even the tallest of mountains, we've sent some of our friends at 40tude, currently trekking in the Himalayas for Lynch Syndrome, some of our Wype mini to see how it sizes up against, well, a mountain!  
Wype supporting

40tude

's

Nepal Trek for Lynch Syndrome

 
We're extremely proud to be supporting 40tude, a charity on a mission to cure colon cancer, on their trek up to Mardi Himal (standing at 4,500 metres) in Nepal to raise awareness for Lynch Syndrome! This has been a huge part of our Bowel Cancer Awareness Month initiatives over the past month, and we're so proud to be a part of their mission. 
Lynch Syndrome is among some of the most common hereditary cancer syndromes and is linked to an increased risk of developing bowel cancer, especially in people under the age of 50. Studies have suggested that 1 in 300 people could carry Lynch Syndrome. It's thought that only 5% of Lynch Syndrome carriers are aware of their condition. Tom Campbell, the leader of the Mardi Himal challenge is on a mission to find the missing 95% of carriers. 
This year, 40tude is doing incredible work to raise awareness around Lynch Syndrome in the GP community, tackling the issue from the top and making diagnosis more widely available for those who might be affected by the condition. 
You can find out more about Lynch Syndrome here.  
If you'd like to see how the team got on during 40tude's Mardi Himal challenge last week, or even donate to the cause (where they've already raised over £11,000!), you can find them here.  
Check out a picture from their journey below! 
Wrapping up

 
The last thing we want to be worried about when hiking is feeling uncomfortable about needing the toilet, or worse, feeling uncomfortable because we can't clean up properly after we've taken to the designated shrub shaped bathroom.  
When you have a 30ml bottle of our Wype Mini on hand, you never have to worry about what the trials of a trek might leave behind. Let your legs be the only thing below the waist you worry about when you're trekking/hiking and let Wype take care of the rest.  
Want to make going to the toilet in the wilderness a semi-pleasurable experience? Try the Wype On-the-go bundle and see how many miles a smile between your cheeks can take you! Get it here! 
---