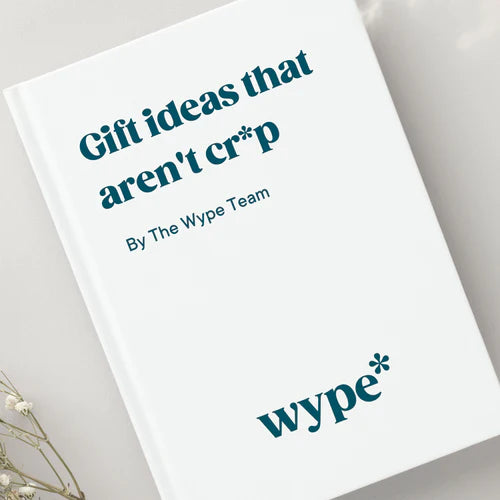 Gift ideas that aren't cr*p: The Complete Sustainable Christmas Gift Guide
Our Christmas lists are slowly but surely growing as we remember that, yes, we actually did want to get Aunt Bernardette that thingamajig we saw on Facebook 3 months ago, but we can't remember what it was called anymore. As the anxiety builds, the clock keeps ticking, and our tat threshold precipitates, we are more and more inspired to wrap the first piece of glittery plastic we come across and call it a day. 
However, around tonnes of plastic packaging goes into landfill at Christmas time. So, as we continue to ponder on what we might like to give and receive during the most wonderful time of year, it's also a great opportunity to think about (1) things that we actually need and (2) gifts that are reusable, refillable, and hold longevity. It can often feel like our minds have to stretch all the way to the north pole to find something to gift every type of person, let alone think of sustainable Christmas gifts. Never fret though, the (appropriately and fairly paid) Wype Christmas elves have been working hard to make giving eco-friendly gifts easier for you.  
Here's our ultimate guide for sustainable Christmas gifts. Gift ideas that aren't cr*p.   
 Gifts f

or the secret Santa.
The Wype Christmas Mystery Bundle: Looking for a way to introduce that loved one to Wype but haven't found the right time? Gift them with one of our mystery bundles for a light-hearted segue into a cleaner, fresher way of life behind the cubicle door. Not only will you receive 3 of our on-the-go Minis, but you will also have the choice to give them our Angel or A**hole limited edition bundles as a sustainable Christmas gift. All of the contents are sourced from small British businesses.
The Angel box will envelop you in Christmas with minty candy cane-scented candle and a Peach Bellini bath bomb to sweeten the deal. The A**hole box will drag you down a blazing trench of fire with our richly scented honey & tobacco candle and smoky ghost pepper hot sauce. Which will you choose to gift (or keep)?  
Get it in time for Christmas! Express and overnight delivery are now available. 
Gifts for the one

who's out-and-about.
Ocean Bottle Brew Flask: Reusable bottles and coffee cups are not only handy all year round for anyone with an on-the-go lifestyle, but they're almost an extension of our personalities. "Oh, this? Just my coffee flask that's colour-coordinated with my outfit." After all, our coffee cup should look as good as the elixir it holds makes us feel. Ocean bottle ups the ante by financing the collection of 1000 ocean-bound plastic bottles with every purchase.  
Finisterre: Perfect for that person who will be at work one day and posting a picture of themselves on top of a mountain on social media the next. Finisterre works towards making clothing in a responsible and transparent way for its customers so that they can enjoy their adventures with a hint of sustainability.   
TALA Sustainable Activewear: As the new year draws nearer, so do new year's resolutions...ouch! Whether you're buying for someone ready to jump straight onto the treadmill or they're focussing on getting that prolonged home project done, let them do it in TALA. TALA has sustainably produced activewear that doesn't let you down on performance, flattering fits, quality or style, and doesn't hurt the planet.   
Gifts for the dog lover.
Grub Club Dog Food & Treats: There's not much better in life than watching your little four-pawed pal have just as much fun on Christmas Day as everyone else. Treat them this year to Grub Club's Treat Multipack, hypoallergenic insect-based dog food perfect for sensitive tummies, itchy skin, and the planet. It's the best eco-friendly gift for the soft pup stocking you're putting together.  
We've even managed to get you a cheeky 25% discount! Use code WYPE25 at checkout for 25% off your order. Get it here!   
BECO Rough & Tough Recycled Sloth: Made from recycled materials and planting a tree with every sale, BECO contributes to the protection of the Sumatra rainforest and its inhabitants, including the Orangutan. See, even doggos can get eco-friendly gifts this Christmas!  
Gifts for the foodie.
Extract coffee roasters: delicious coffee delivered straight to their doorstep with subscription services available. Extract work towards recycling waste into bio-energy, sustainably sourcing their coffee, and supporting the farmers who grow it!  
Rhythm 108 Vegan Chocolate: Silky vegan Swiss chocolate and treats. Handmade vegan, gluten and palm oil free. Pick from a number of different flavours and sweet snacks. Yum! 
Rubies in the Rubble: Condiments, relishes and chutneys made with fruit and veg that would have otherwise been wasted in stores. Know someone who likes ketchup with a side of fries? This one's for them!  
Gifts for the homebody.
Merit Mushrooms Growing Kit: Did you know that humans share almost 50% of their DNA with fungi? Mushrooms are versatile, tasty, and twice as fun when you grow them at home! Gift one of these mushroom growing kits to that fun-guy that loves their shrooms and puns ;)   
HOMETHINGS 'Bundle is Massive' Bundle: Homethings create sustainable alternatives to the cleaning products that you use every day. Know someone that could use a little eco boost with their washing & cleaning, or just want to introduce them to an easy and sustainable way to keep the house clean? Gift them Homethings so they can clean up their home and their act (p.s their cleaning sprays smell amazing!).    
PATCH House Plant: PATCH is a sustainable plant company that is making big moves in the UK. Whether you're buying for someone that's looking for a monster of a tall Fiddleleaf, or maybe just a starter Snake Plant, you'll find a plant for everyone at PATCH. Even better, they'll deliver straight to your loved one's door and help them look after it along the way. So, patch up those gaps in your shopping list for gifts and give them the gift of a greener house!    
Gifts for the self care obsessed.
Jungle Culture Zero Waste Safety Razor: Partner's stubble getting a bit scratchy? Are they going through disposable razors/razor heads faster than Santa is cookies? Gift them one of Jungle Culture's zero-waste safety razors (because we support gifts that help both parties)! With a variety of colourways and materials, they're great eco-friendly gifts for everyone and anyone. Want to keep them set up for a while? Be sure to buy some extra safety blades to go with the razor!   
Fiils Refillable Shower Products: For the person that has sustainability on their 2023 to-do list, get them some refillable toiletries from Fiils. With amazing scents, aesthetically pleasing packaging and a convenient subscription service, Fiils is the easiest way to keep the bathroom stocked and pretty all year round.
Soap Co: A bathroom-based company that employs blind, disabled, or otherwise disadvantaged workers to create luxury bathroom products. They use locally sourced bottles and compostable soap wrappers too!  
Whatever type of person you're buying for, gifting with sustainability in mind is always a plus!   
We hope you've found our ultimate sustainable Christmas gift guide helpful in picking out something for that person who's impossible to buy for! Spoil them for Christmas this year, but not at the expense of the planet. Make sure Wype is under the tree for a clean conscience and cleaner pipes. Get the Christmas Mystery Bundle here!  
---