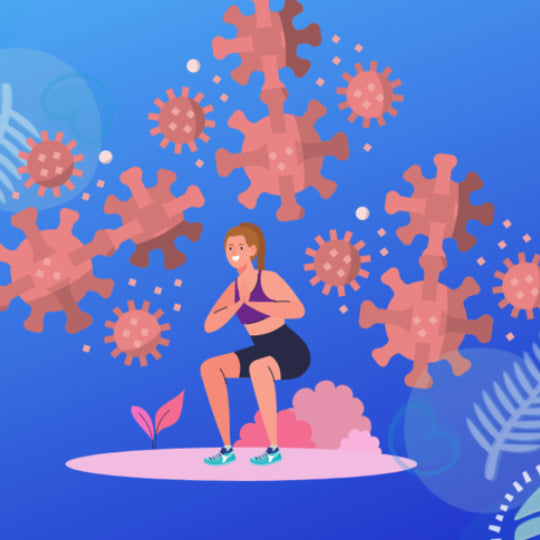 Workout Tips for your Bum
Here at Wype we're in the booty business. It's safe to say that we love butts all shapes and sizes, as long as we can help them stay clean and healthy! Speaking of healthy butts, 2020 has really tested our relationship with our physical and mental health when our routines are affected. Even when gyms are open, you might not feel safe to go because you are often in contact with vulnerable people, if you are vulnerable yourself, or simply because all you can do is visualise miniscule particles of COVID flying all over the room. What a time to be alive!
One step at a time
Even if you are not a regular at the gym, what you might or might not have noticed is that the loved and hated 'WFH' tends to decrease the amount of exercise you get daily. You can get out of bed and into your DIY home office within seconds. However, how many steps did that take you? We just counted, 25 for us. Now think back to that dreaded commute: walking to the station, taking a train, maybe a tube, then walking to the office. Believe it or not, you've probably already clocked up a few thousand steps before you've got to your desk. The NHS (and your annoying Apple watch) recommends that we should do around 150 minutes of active exercise per week, which could equate to 10,000 steps per day.
So what do we have to do with it? Well just like a fairy godmother, we like to butt in and remind you to get your arse off your seat once in a while. It's for your own good! Fitness is not only about appearance, it is mostly about the countless benefits that a little bit of movement brings to our health. Wype Workout Week is about getting your butt moving, and we are here to help!
What is your fitness persona?
We feel that exercise choices are very personal, so we tried to find a little bit of something for everyone!
The endorphin eagle:
AMRAP, BMI, HIIT and especially DOMS. You know all the acronyms, and when the gym shuts down, you say WTF! Where will the next proper energy release come from? Luckily for you, you already know what you like and what fits your routine.
If you're into classes, as much as YouTube and the apps have you covered as far as virtual training, try to keep an eye out for the virtual initiatives of your favourite gym. This will allow you to tune in with your favourite trainers, and support the businesses that bring you so much joy year round. Remember gyms have really been struggling this year.. Give them a long distance high five!
What about the gains? Well my friend, you gain some, you lose some. Having weights at home is a luxury given space constraints and the skyrocketing prices of gym equipment in 2020. Try to get creative with some DYI solutions, or challenge yourself with bodyweight exercises. You might just find that with the right routine you'll be able to challenge your body and maintain those muscles that you worked so hard for.
The forest freak:
Well, well, well. The great outdoors that was once yours is crowded with urban amateurs in search of something to do. At least now you can relish at the thought that the nature you appreciate so much is appreciated by so many others! Unfortunately that comes with pitfalls, like suddenly finding wrappers and trash littering the usually immaculate landscapes that speak so much to your soul. In that case we give you full permission to put some of that residual anger and stress from this year to good use if you catch the perpetrator. Otherwise for a more peaceful approach, take a deep breath, and pick it up. It's all good karma.
The fair-weather exerciser:
Yeah you like to exercise, kinda? Is your best friend there so you can discuss who held that final plank the longest? Do you have a free half hour before to feel sorry for yourself and a half hour afterwards well, to feel sorry for yourself? Are your favourite workout clothes clean - although you only have one set of your favourites and you wore them for that workout you almost did on Tuesday but then mom called and afterwards you got sucked into a YouTube spiral about rescue dogs, and ultimately spilled a glass of red wine on it?
Consider yourself lucky, your temperament allows you to not start foaming at the mouth when you haven't worked out in a week like our 'endorphine eagles', however, a lockdown is the perfect excuse to have no excuses! With an infinitely flexible schedule you can finally face your demon.. Your own procrastination.
If you're still not motivated you can go on a quick Google and take a look at the benefits of exercising. Yes the last time you went on WebMD because your toe was sore you wrote a will just in case, but trust us, even just a little bit of exercise does wonders for your health!
The couch potato:
Let's face it, you're probably not reading this. But if you are, there's a chance you hate exercising but kind of wish you could get into it!
We think there is nothing worse for someone who hates exercising than being around people who love it, and are so enthusiastic, and make it look so easy. Flush them! So guess what, we're not telling you to exercise at all.
What you can do is read this very interesting piece by Lifehack that focuses less on exercise itself, and more on our ability to form good habits, and break the bad ones.
But what about my booty?
We thought you'd never ask.
Before you get going, fill that water bottle up (staying hydrated is key!) and get stretching and get the blood pumping! Start off with a few high knees, bum kicks and star jumps. After you're warmed up, you're ready to build that booty! Here are a few of our favourite peach building exercises:
Squats

Donkey kicks

Lunges

Fire Hydrants

Side lunges

Leg raises

Glute bridges

Stairs!!!
Or, if you need motivation from some of the top YouTubers, here are our recommendations:
Joe Wicks - Legs & Bum workout here
MadFit - Legs, Butt & Thigh workout here
Chloe Ting - Legs & Round Booty workout here
Still struggling for motivation? Try incorporating some 'fun' into your workouts (not as hard as you might think!). As you know, we are toilet obsessed so when we saw this toilet paper workout we had to give it a try, and trust us, if Kaisa's muscles didn't give it away already, this workout is no joke!
If you like that one, how about another? Adding an element of variety to your workouts could be the key. Solo workouts aren't for everyone either so link up with your partner or flatmate and get them sweating too!
Got some spare cash from not having to travel to work each day? Then how about purchasing some gym equipment which will motivate you to push yourself. Resistance bands from MyProtein are both affordable and good quality (plus they always have discounts!). Jump ropes are a great way to get fit and with both beginner and advanced ropes, Dope Ropes is the perfect place to start skipping. Medicine balls are used to train your abdominal muscles, as well as using them for other exercises and can start at pretty low prices. Check out these Opti balls to get you started.
However, as the Winter weather sweeps across the UK, more and more people will struggle to get motivated by outdoor exercise and park runs but don't let that stop you. Grab yourself a HIIT or Yoga mat and keep up the good work - Amazon has a great selection at reasonable prices and different colours to match your sitting room pantone! You can then tune into YouTube for some motivation or continue what you love working out the most!
Keep an eye out for our Workout Week on our social and get that butt moving! Tag us in any of your pre or post workouts, bonus points if you can add a bottle of Wype in there too!
---